We Specialise in
Laser Hair Removal for Men
We have trained male therapists for those areas you would rather not discuss in an open forum (after all the tree does look taller in a trimmed forest).
In 2022 waxing, shaving, epilators, tweezing, plucking, sugaring and hair removal creams are out-dated!
In the past price of Laser Hair Removal was the only thing holding people back we are here to change that.
Technology to the rescue – with painless laser hair removal there is no need to suffer the nasty side-effects and pain of most of these outdated methods – not to mention that these other methods are purely temporary requiring monthly or weekly sessions for the rest of your life!
Laser hair removal offers permanent hair reduction and maybe once a year touch ups on certain body parts after that.*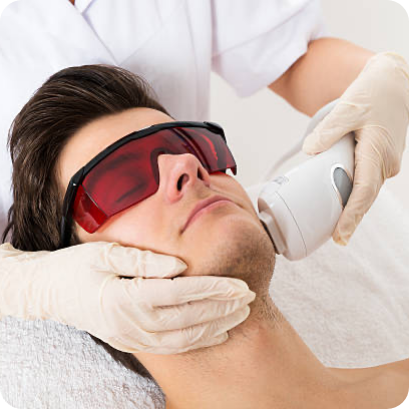 Chest + Back from only
₹ 2,550/- a session
Chest + Back + Arms + Underarms + Shoulders from only
₹ 4,950/- a session
Introducing
The new 'standard' in Laser Hair Removal
Our Standard Laser Hair Removal sets a new benchmark (don't be fooled by the name, our 'standard' is our leading competitor's premium offering). For this service we use USFDA Approved, Alma Soprano ICE® or equivalent- Alma Lasers is the pioneer in truly painless laser hair removal with In-motion Technology®.
The concept is simple – the outcome is revolutionary! Other technologies fire a high-power laser in a single burst then the hand piece is moved and fired again. With the technology we use the method works on cumulative energy, moving a cooled laser-tip quickly over a defined grid/area to deliver the same total energy but in parts rather than bursts – resulting in a very comfortable painless treatment – you feel gradual heating rather than bursts of energy
We call ourselves the pioneers in painless Laser Hair Removal
And rightly so (we are not blowing our own trumpet – we actually own every generation of Alma laser hair removal devices & other leading competitors to Alma too!). If you simply want the best, we have two other categories:
Superior Grade: Superior is an upgraded, more technologically advanced category of laser hair removal at The AgeLess Clinic—built to target even the darkest, fine, light, coarse, and peskiest little hair follicles that refuse to behave.
Royal Grade: The AgeLess Clinic Royal Grade of Laser Hair Removal uses revolutionary technology from the international cult-favourite aesthetic-tech brand InMode®, called Triton®. InMode® also happens to be a Hollywood favourite, preferred and loved by celebrities like Kim, Kourtney, Khloe Kardashian, Chrissy Teigen, Shay Mitchell, Amber Rose, and more. Told you, it's royalty! So upgrade to our even more advanced technologies (which are even faster and better – (let's not forget time is money)
About Us
The AgeLess Clinic was established more than 12 years ago with the purpose of introducing the latest international aesthetic treatments to Mumbai, while keeping in mind the Indian skin and its myriad moods. When Dr. Harshna Bijlani, Medical Head - The AgeLess Clinic, returned from the UK in 2008, where she did several specialised cosmetic dermatology courses from the prestigious Harley Street, and gained immense clinical know-how and hands-on training with London's top celebrity doctor, she had a clear goal. She set up The Ageless Clinic in Mumbai with the aim to provide customised, state-of-the-art treatments using innovative international technologies from around the world combined with her personal holistic approach to skincare.
In a short span, The AgeLess Clinic has built a loyal, notable client list that boasts 80% of Mumbai's top celebrities, supermodels and thousands of happy, glowing faces across all ages.
Recognised by Vogue Magazine as the 'Skin Expert of the Year'—the industry's most esteemed award—and spotlighted as the #1 Ultherapy Treatment Provider in India, Dr Harshna Bijlani is a pioneer of innovative aesthetics and clinical beauty in the country.
With her immense knowledge, global perspective, expertise and insights in the field of aesthetic skin improvement, Dr Bijlani is often quoted and interviewed by leading publications including Vogue, Elle, Cosmopolitan, Harper's Bazaar and Femina to name a few. She has also been the judge for the ever-anticipated Vogue Beauty Awards and the 'Skin Expert' for the Vogue Wedding Show, both for more than 4 years.